If you're from Hawai'i, or maybe even if you're not, you may have heard the term "Eddie Would Go."
A popular expression in surf culture, it encourages bravery in the face of something daunting. It's inspired by the life and character of Eddie Aikau, a legendary surfer, lifeguard, musician, traveler and all-around hero to many. He was the very first lifeguard at Waimea Bay on O'ahu, paddling out into waves that often reached 30+ feet, to rescue more than 500 people throughout his career. Not one person died on his watch.
As a surfer, he made his mark in big wave riding during a monster swell at Waimea Bay in 1967 and for the next 11 years, he surfed every notable North Shore swell, according to Surfer Today. His best contest win was in the 1977 Duke Kahanamoku Invitational Surfing Championship. Surfer Today explains what else happened in 1977.
"That same year, he boarded joined the Hōkūle'a, a 60-foot replica of a Polynesian voyaging canoe, for a 2,400-mile sailing journey from Hawaii to Tahiti, using ancient navigational techniques only.
On March 17, 1978, the boat capsized 20 miles west of Lāna'i, and the crew lost all provisions and telecommunications. Aikau decided to paddle his board toward Lāna'i to get help. But he was never seen again."
Honoring Eddie Aikau at Waimea Bay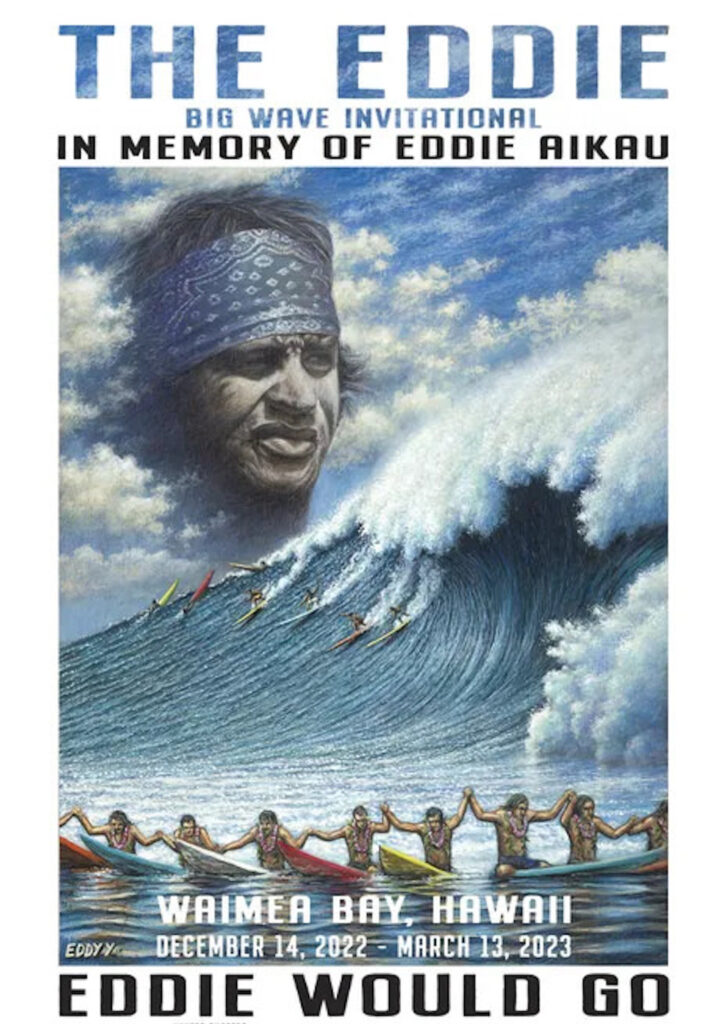 Eddie Aikau was said be a humble man who had an impact on so many; inspiring future generations of surfers across the globe. So in the winter of 1985/1986, the first Quicksilver Eddie Aikau Big Wave Invitational was held at Waimea Bay. The unique condition to this contest? Waves had to be 20 feet or higher.
As the story goes from Surfer Today, "When the organizers were deciding whether to raise the green flag or not, Mark Foo exclaimed: 'Eddie Would Go.' The expression stuck, and the contest got underway."
So that was the first Eddie Invitational. Nearly every year in the last 35+ O'ahu winters since, surfers, media and residents have been on high alert for a "green light" signifying the competition is ON. There's a certain window of time designated for it based on predicted swell, but ocean conditions and weather have to converge in a very special way for it to happen. Remember, waves need to be 20 feet or higher!! As a result, the tournament has only been held 10 times since 1985, most recently on January 22, 2023.
The Eddie Aikau is ON!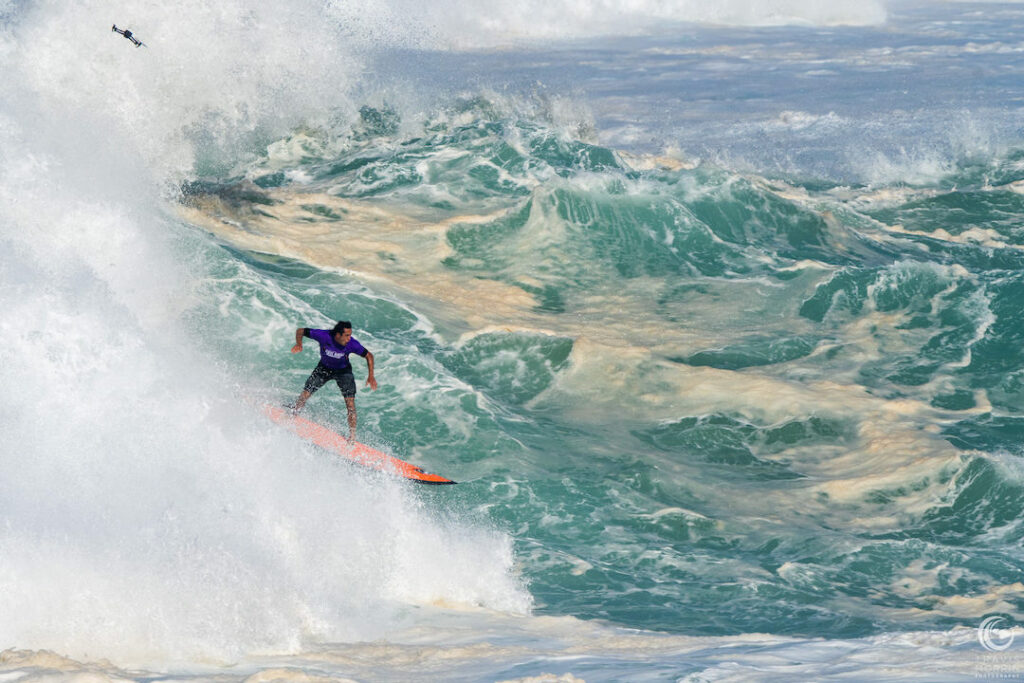 Once I heard the contest was a "GO," I booked my flight over from Maui and made all the arrangements I could. As a photographer, location matters, so I did my research and scoped out the area on foot, getting advice from local lifeguards and folks familiar with the beach to find the best angle and viewing zone. One thing I knew: it was going to be BUSY, and snagging a spot early was crucial. For an event that started at 8 a.m., that meant getting out there just past midnight. Finding a good parking spot even at that time was a lucky break, then I started my trek with around 30 pounds in gear, a beach chair and a fully-packed cooler!!
There was no access to the beach yet, so that meant getting creative, hiking down a hill and somehow finding my way through the bushes…all in the dark, mind you…until I reached my intended perch. Phew!! What a journey, but also a relief. Once I had my spot, I essentially couldn't leave it! I think I fell asleep in my chair for about 20 minutes, but with activity all around, I was pretty much awake the entire rest of the morning. I got to chat with some nice neighbors, catch a pretty sunrise, and was more than ready for the Eddie, which started at 8 a.m. sharp!!
Capturing the Pros in Action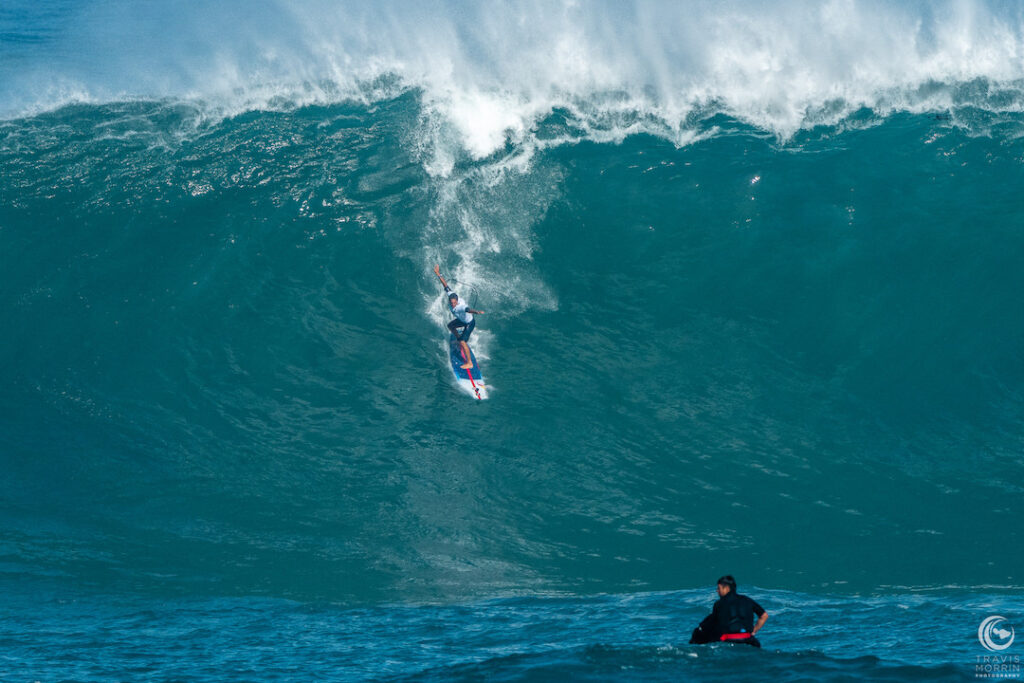 The swell and surfing were unbelievable, and it was such a rush to be there, capturing photos of some of the biggest names in surfing today (and yesterday — with legends like Michael Ho in the lineup at age 65!). I've been surfing most of my life, so it was extra special to be part of this.
It was also awesome to see so many female surfers, and a lot of pros from Maui among the 40 invitees! Two Maui boys even placed in the top 8: Billy Kemper (4th) and Kai Lenny (5th)! I had a great vantage point and was stoked to catch the action. But after a solid 12 hours in that spot, I was about ready to fall over from exhaustion, especially in the full sun!!
Feel-Good Story of the Day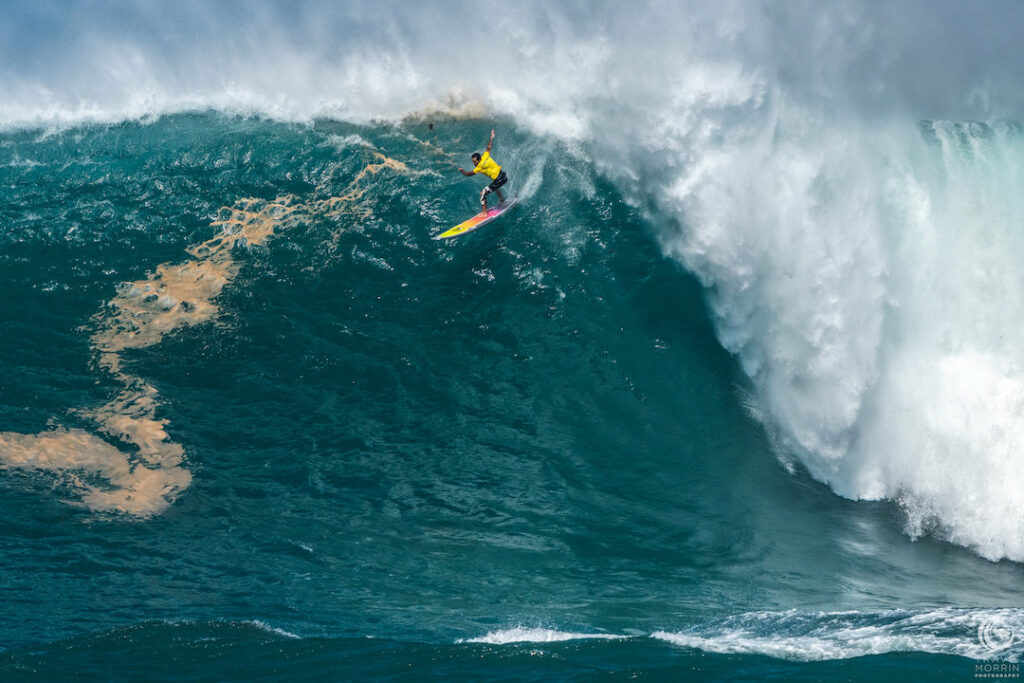 It was a whirlwind of a time, to be sure! But ultimately, it was beyond awesome to be there and snap photos of so many incredible surfers and big names in the industry.
But it was also cool that a little-known, 27-year-old North Shore lifeguard ended up winning The Eddie! His name was Luke Shepardson, and he was scheduled to work his lifeguard shift that Sunday, but got permission from his boss to take a longer break and compete in the iconic competition. He ended up blowing away judges with a near-perfect score (and edging out former contest champ John John Florence) to WIN the 2023 Eddie in front of 50,000 spectators! Such a cool story that a humble lifeguard gets the honor of winning an event inspired by another humble lifeguard! And I'm just honored I got to witness a little piece of surf history from behind my lens.
Can't get enough of the ocean's power? Check out my stories on Maui's famous surf spots, Pe'ahi: Into the Jaws of Big Wave Surf and Freight Trains: The Legend Comes Alive!