The images, stories and horrors from the Maui fires are still fresh. On Tuesday, August 8th, 2023, the historic town of Lāhainā, Maui went up in flames, fueled by terrifyingly high winds and downed power lines. The fire spread quickly, taking many lives, homes and businesses with it. Rescue and recovery efforts are ongoing, cleanup comes next, and rebuilding is farther down the road. The fact is, this beloved place — the original, royal capital of Hawai'i — will never be the same.
West Maui isn't just a beautiful and historic town. It's a part of our community, our home, our island. My thoughts and prayers go out to everyone who's been impacted. I'm grateful to everyone here and around the world who's shown their love for Lāhainā since this tragedy. I'm trying to do the same, in my own way.
Support for Maui Fire Survivors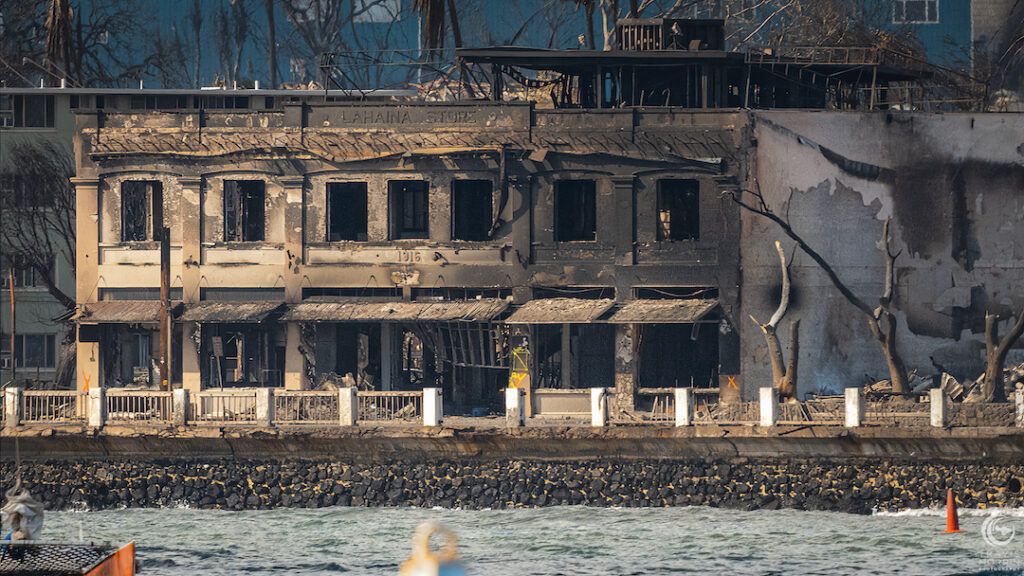 Since the Maui fires, so many people and groups have mobilized to help survivors. The ocean stewards Pacific Whale Foundation and PacWhale Eco-Adventures were among the first to take action; collecting much-needed donations, loading them onto their boats and delivering them directly to folks on the West side.
In normal times, our restaurant Three's Bar & Grill provides food for all the PacWhale boat tours, so we've been helping to keep the crews fed as they work so hard to help. I went along to help on a supply drop to Kā'anapali and saw how much these items and efforts meant to survivors. As we passed by the stretch of Lāhainā town by boat in respectful silence, I gathered some images from afar that I share with you here. It's surreal to see so many recognizable sights destroyed…the devastation is absolutely heartbreaking.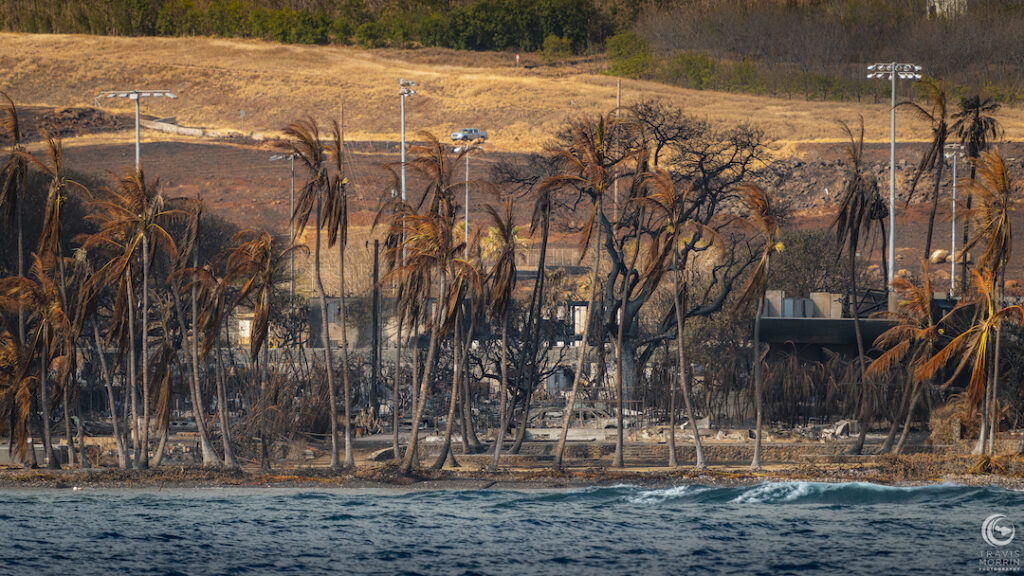 I've grown up on this island, even attending first grade at King Kamehameha III Elementary School on Front Street, which was reduced to ashes in the fires. I've surfed up and down the coastline of Lāhainā since I was a kid; it's jarring to see some of my favorite beaches now home to so much destruction.
Memories that Mean So Much
Nine days prior to the fires, I spent an evening in Lāhainā, flying my drone around on the night of the July Supermoon, watching sunset as surfers rode mellow waves, and enjoying dinner on the breakwall at the harbor, which has now disappeared. I even walked past the iconic, 150-year-old banyan tree, which burned in the fire — it's not known yet if the steadfast symbol of historic Lāhainā will make it.
At the time, it was just another night in Lāhainā. I didn't think much of it…but I do now. So I decided to create a simple gallery with images that capture this beauty, frozen in time, on my last night in Lāhainā as I like to remember it. I have two prints available for purchase in a range of sizes, and 100% of the net proceeds from this gallery will be donated to verified Lāhainā fire relief funds.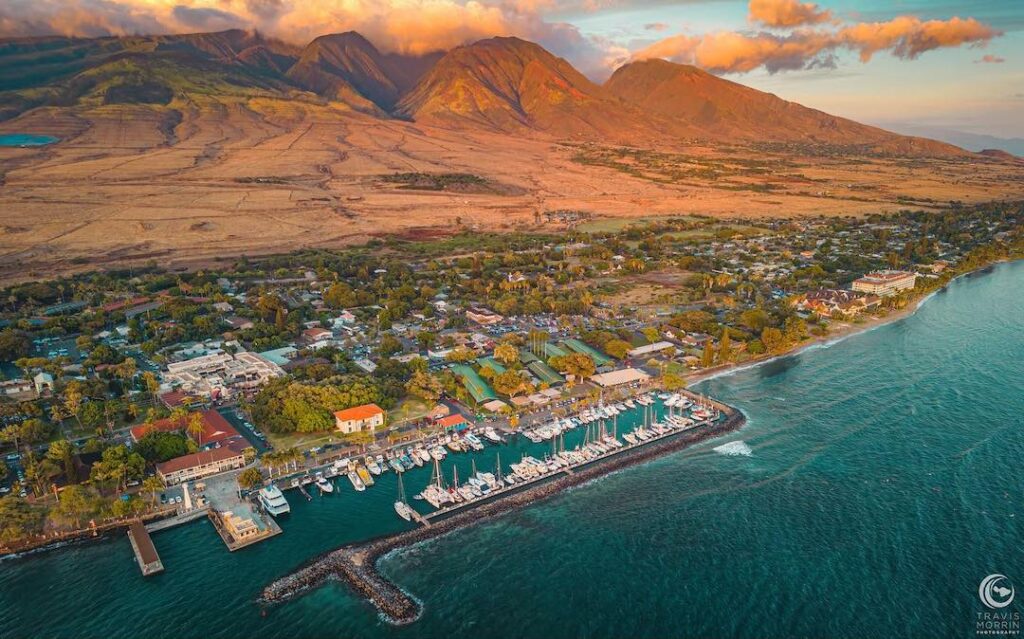 I call this one "Spirit of Lāhainā." Below the picturesque West Maui Mountains, the town bustles at sunset. Iconic landmarks like the giant Banyan Tree, Lāhainā Heritage Museum, Pioneer Inn and the harbor can be seen, as well as King Kamehameha III Elementary School and 505 Front Street.
A Supermoon with Significance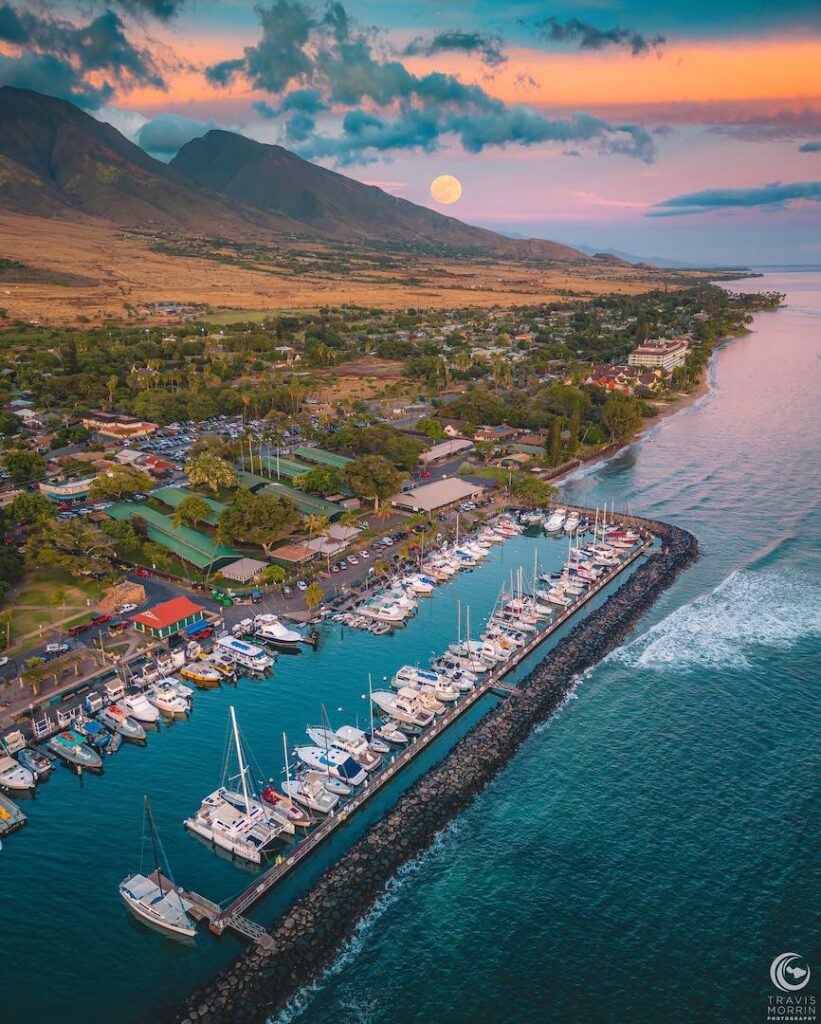 This one I simply named "Lāhainā Supermoon." Rise and shine goes that special Sturgeon Supermoon over historic Lāhainā Harbor. Gorgeous colors paint the sky. The supermoon's soft yellow glow illuminates the water below, as surfers catch a final wave under the full moon's light.
Captured on July 31, 2023, it's last supermoon to rise over historic Lāhainā Town as we knew it. A sad reality, but let us always remember the beauty and character that will forever be Lāhainā.
As our community mourns, remember to practice aloha. Let us not forget Kula as well, where many homes were lost in Maui fires around the same time. We're in this together, as one island community.
Mahalo for your kōkua (help). Please share this page with friends to sustain support for our island, now and into the future. The recovery and healing process will be difficult and lengthy, but one day — Lāhainā will rise above the ashes, stronger and more resilient than ever.