Mention Maui and snorkeling if you're visiting the island…and Molokini is sure to come up in the conversation! About three miles off the coast of Maui, this tropical islet consistently ranks as one of the top diving and snorkeling destinations on the planet!
Molokini is Literally Legendary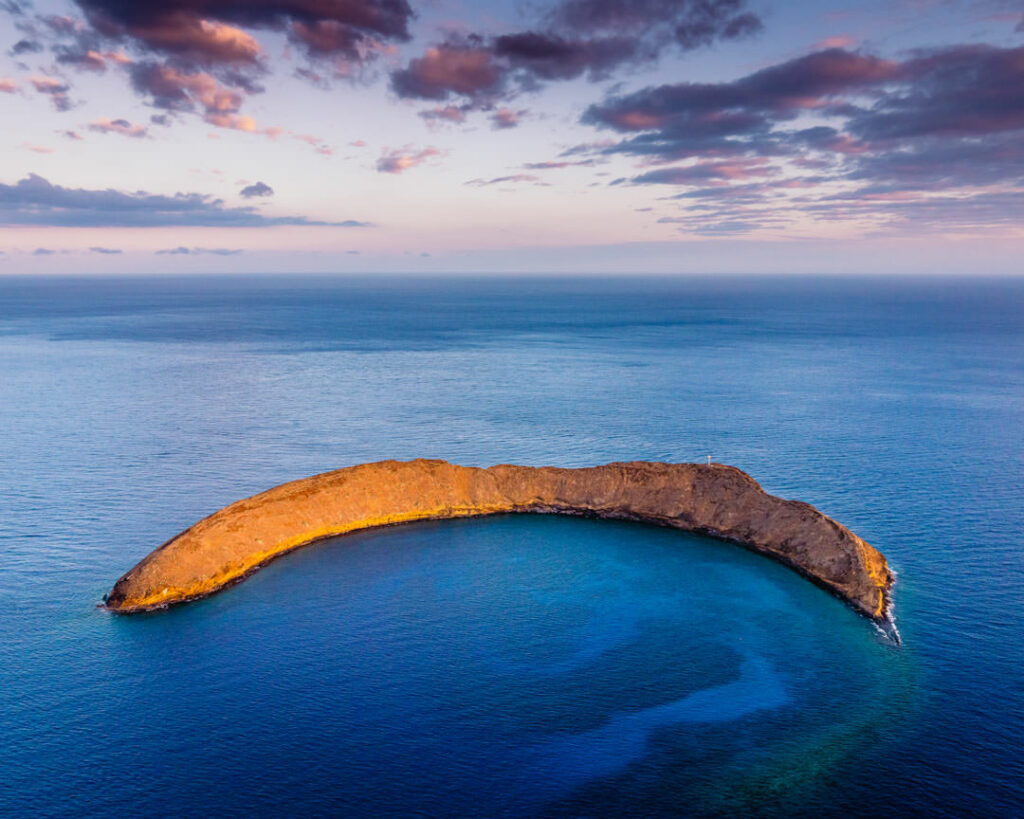 Molokini Crater began as a violent volcanic eruption deep under the ocean. These days, the islet is nearly half the size it was when it first formed. According to Four Winds Maui, "What you see today is actually the remains of a giant cinder cone that rose above the surface and erupted approximately 230,000 years ago. Hundreds of ancient cinder cones can be found all around Maui, but Molokini is unique and it rose from the deep ocean floor to reach above the water. Many of these cones never break the surface of the water and only erupt below the surface."
Four Winds also eloquently explains the ancient Hawaiian legend associated with Molokini, which means "many ties" in the Hawaiian language.
"The fire goddess, Pele, was in love with a prince (who also happened to be a gecko or Mo'o.) The prince fell in love with another woman, and in her fury, Pele took her revenge, by cutting the woman in half. The head of the body became Pu'u Olai, which is the cinder cone mound on the north end of Makena Beach (Big Beach.) The body fell into the ocean and became Molokini Crater."
A Haven for Marine Life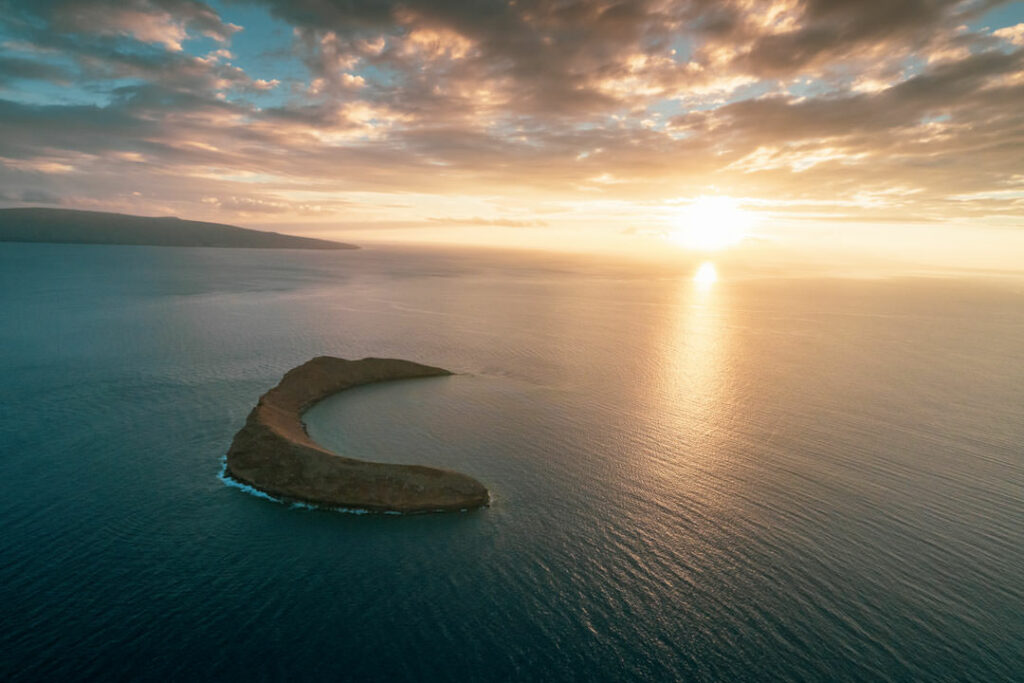 With its unique crescent shape offering shelter and protection in the vast ocean, Molokini is a marine sanctuary, home to around 250 marine species! As Four Winds explains, that includes around 38 diverse types of hard coral and a multitude of tropical fish. Some you may have heard of include the Yellow Tang, trumpetfish and Moorish Idol, but there have even been reports of humpback whale families hanging out there! Here are some other fun facts…
Molokini is one of the world's three remaining volcanic calderas in the world (the second one is off the coast of Kaua'i)
As a partially-submerged crater with steep cliff lines in the back and a gentle slope in the front, Molokini's clear water makes for some of world's best snorkeling.
The island is a protected nesting area for two distinct species of seabirds.
Recent archaeological evidence shows that the ancient Hawaiians ventured out to Molokini hundreds of years ago to fish. It is also believed that Hawaiians may have harvested seabirds, eggs and feathers.
The back side of Molokini (or outer part of the crescent) boasts world-renown, advanced diving for scuba divers. In fact, it's often considered one of the top 10 diving spots on the planet. The "back wall," for experienced divers only, is a vertical dive that goes down 300 feet! Other zones there are known as Flying Sea Cliffs and Edge of the World.
How to Enjoy Molokini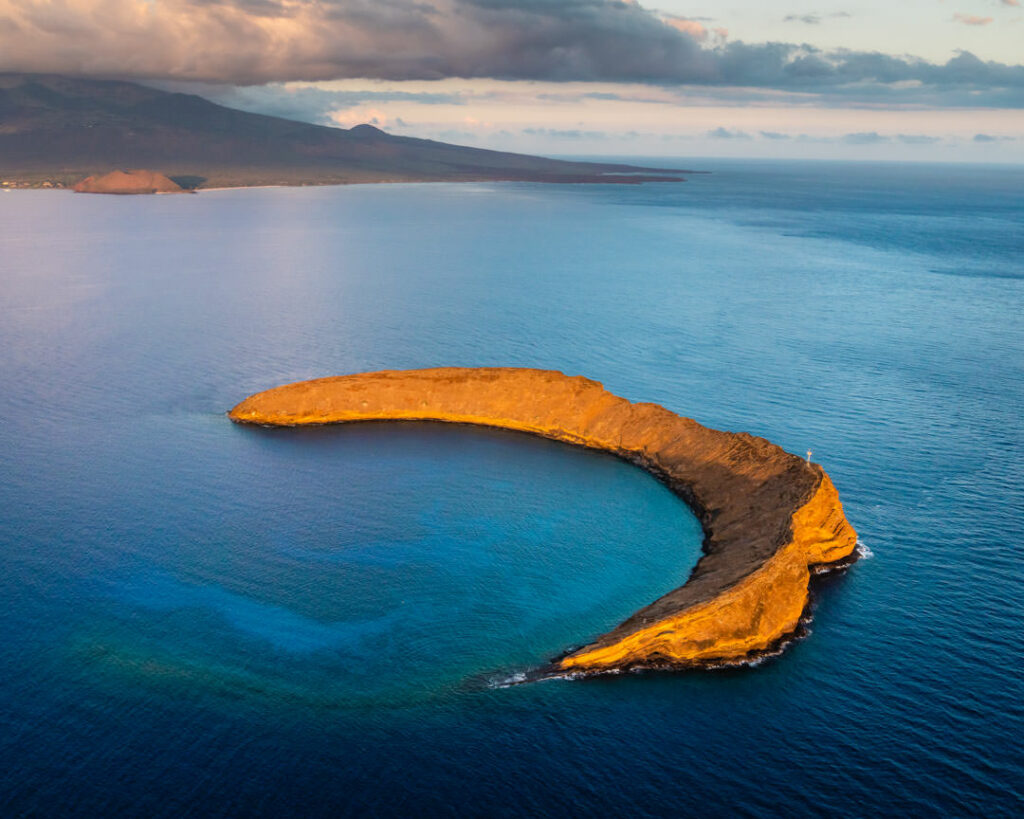 Snorkeling tours are a fun way to go, whether you're a visitor or a local.  One of my restaurants, Three's Bar & Grill, provides food for the PacWhale Eco Adventures snorkel trips out of Mā'alaea and Lāhainā — they're always a fun time!  Early morning is the ideal time to explore underwater, when visibility is exceptional and marine life is active.  Other tours offer Snuba, a combo of snorkeling and diving where you can explore a little deeper underwater with ease.  And then of course there's Scuba, which is an adventure all its own (I recently got scuba certified with the terrific Maui Dreams Dive Co). I just did my first boat dive in May, so I'm stoked to say I've now seen this crater from above AND below. Molokini is, in fact, considered one of the best places in the world to scuba dive. Known as "back wall," the outer part of its crescent allows for some very deep and unforgettable drift dives for advanced divers (not me yet); you can learn more about it in this article by Maui Inspired, "Scuba Diving the Back Side of Molokini."
Just a reminder that it's illegal to touch any part of Molokini; it's also against the law (and very bad fortune) to remove anything from the surrounding waters; also please don't ever feed or harass any marine animals. Here in Hqwai'i, we believe strongly in protecting the sanctity of this special place.
Sky-High Views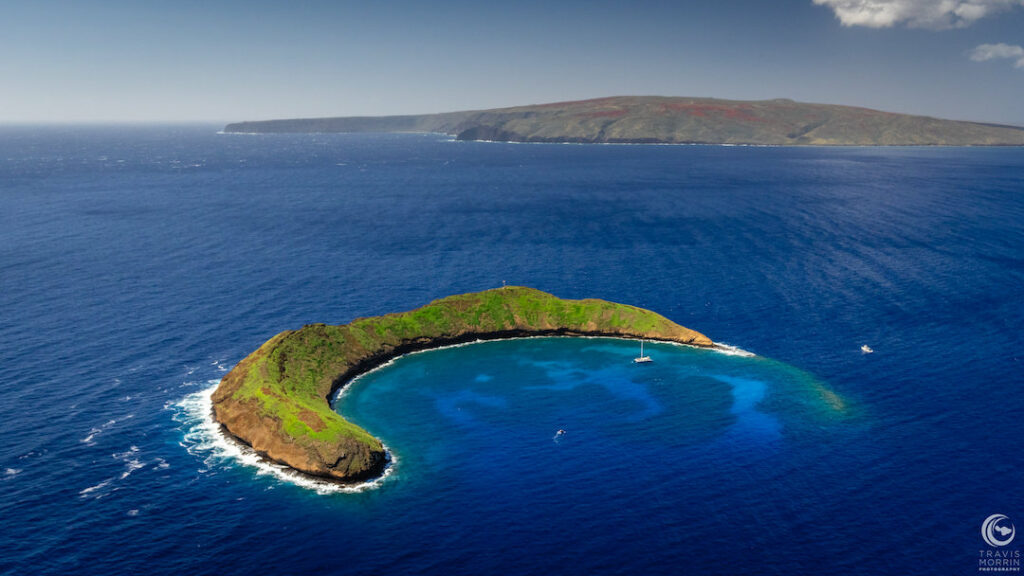 If snorkeling isn't for you, consider a helicopter tour. As a photographer, I've gotten the chance to enjoy this spectacular sight from the sky with Go Fly Maui. I've seen it bathed in the golden light of sunset in August of 2022, then again after winter rains when it glistened with lush greenery, always surrounded by those crystalline blue waters.
Molokini is a stunning and sacred treasure — a volcanic crater popping up in the middle of the ocean, home to some magnificent underwater scenes. I just got a water housing for my camera, so I can't wait to start exploring photography from beneath the waves as well!
If you'd like to check out another iconic volcanic crater, check out my blog on Haleakalā: House of Sun, Home in my Heart.